Five ESG Marketing Initiatives
A Corporation Should Consider
21 October, 2022 / Patt Yuen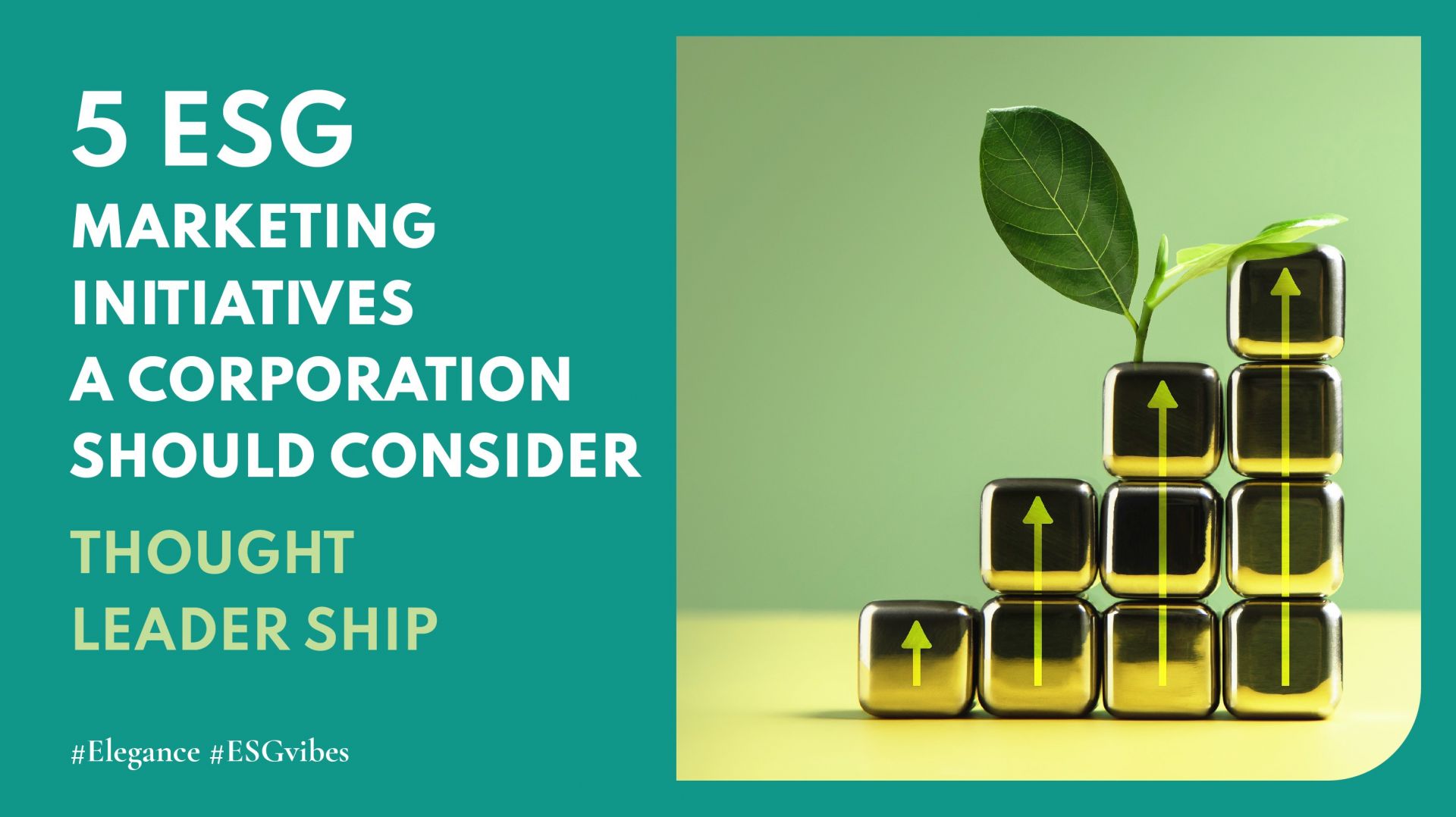 Every private sector has reached a critical juncture and is actively taking responsibility to turn ESG from empty slogans to actions and responsibilities. Integrating ESG into your business ecosystem through influence and education, retaining profits for supporting organizations that foster environmental and social benefits and enhancing purchasing standard to achieve business sustainability, are ultimately creating a win-win situation for business, the society and the environment.
1 - ESG Report disclosure is not a privilege for big and public companies
Increasing social responsibility and leading competition with a good performance ESG Report attracts investors and financing. This is because an ESG Report enables the company to be more transparent about the risks and opportunities it faces.
Today, investors focus more on incorporating ESG considerations into their investment decision-making criteria. According to a recent investor survey from PwC, 79% of respondents said ESG reporting was an important factor in their decisions. Moreover, according to Morgan Stanley, 86% of millennials are interested in sustainable investing, and another survey discovered that they are more likely to integrate sustainability into their consumer behavior. A global study, conducted by an independent research firm, Verdantix, revealed that in 2022, 92% of companies across Europe and North America are adapting their business strategy and models to increase investment in sustainability initiatives to improve their ESG performance. Therefore, no matter if you are a public company or new venture, it's important to identify the sustainability development goals and report them with proper disclosure to your stakeholders to help pave the way for future success.
2 – Creating impact with ESG design and production elements
The new requirements on the ESG Reporting Guide and related Listing Rules by the Stock Exchange of Hong Kong are now enforced for financial years commencing on or after 1 July 2020, and mandatory disclosure requirements are added as a disclosure obligation. These ESG reporting requirements for corporations are no longer solely an environmental and social problem—it is now an issue with repercussions for the bottom line of many companies. However, in addition to investors' watchful eye, we strongly advise corporations to integrate reporting tasks with ESG initiatives such as employing
digital reporting
, increasing paperless documentation, utilising sustainable printing by producing ESG reports and other printed marketing collaterals from
recycled paper and using sustainable inks
; along with hiring design and production vendors with sustainability commitments. Additionally, turning ESG data into infographics and producing company promotional materials such as brochures, flyers using recycling paper.
3 – Give back with purpose-driven gifts
A BoF & McKinsey report estimated that 60% of global millennials are willing to spend more on corporation committed to social responsibilities, thus incorporating ESG efforts and strategies into a core business model is essential for increasing company loyalty and value for customers.
Giving back with gifts is not only an effective way to show your ESG commitment to your customers, it can also be useful to educate your customers to reduce waste, create a positive social impact and embrace eco-friendly lifestyle. A good example of providing corporate gifts to employees that remind them of work-life balance are biodegradable yoga mats, heathy tea bags and eco-friendly sport flasks.
Work in hand with social enterprises and NGOs in producing corporate gifts for customers is always a good way to create a positive social impact by producing purpose-drive gifts, be it a can of fair-trade coffee, a specialty handcraft produced by minority groups or a social farm produce.
4 – Creating an inspiring positive social impact video to make a difference for your brand
According to HubSpot Blogs research, 66% of consumers learn about a brand or product through watching video content. An impactful marketing video can amplify your marketing message and enhance the bonding between your company and your customers. To create an impactful video, company's values, mission, and achievements should be skillfully integrated in the
core sustainability values
that you and your team uphold. Through communicating the impact of your services that can be created for your customers and the society, it can differentiate your brand and services with your uniqueness and far-reaching vision.
However, to make it even more impactful, your
video content
should be attractive to customers and incorporate a few impactful elements to make the video effective for marketing. First, it should be short and concise with maximum 2-2.5 mins duration. Second, make good use of info-graphic to catch audience's attention more effectively and third, add short, punchy and impactful wordings that connect with the viewers.
5 – Promote your company through growing the younger generation
The young generation is our future. Being a responsible corporate company comes with the obligation of helping youngsters to find their strengths and interests for developing their career goals. The corporation can work with schools to offer students internships and learn more about the job requirements of related industries. These actions not only cultivate the next generation but also utilises social resources to help the company grow.
The pandemic has exacerbated the hardships in our communities, taking up corporate social responsibility, corporations can strengthen their collaborations to accelerate the recovery from the pandemic and to emerge as a more resilient society. Socially responsible businesses build a healthy corporate environment and bring people together with other organisations, NGOs, government agencies, and citizen groups. Employees offer their staff time and skills to NGO projects, including sponsoring awareness campaigns,
developing employee programs
, supporting fundraising events, while aligning with your company values and philanthropic goals.
From now on, inspire your employees and capture public attention to help address the most pressing humanitarian issues and climate change around the world.
Meet the author
Patt Yuen
Chief Operating Officer, Elegance Financial Communications Limited
With over 13 years' experience in corporate publishing and multimedia production, financial printing, and information services, Patt plays an active role in promoting corporate sustainability with an imperturbable and ardent approach. She started her career in annual report design and production at The Design Associates, where she honed her business marketing skills, and subsequently steered towards the financial printing industry in 2012. Patt understands the financial communication and financial reporting needs of a wide range of clients, including Hong Kong listed companies, government departments and NGOs. She has an outstanding record of sales achievements in the industry, along with a robust and reputable commercial network, which has garnered trust and acclamations over the years from a wide range of clients.
Patt believes that Environmental, Social and Governance (ESG) values are vital for acute corporate and represent new opportunities. She leads her teams of expertise with pioneering technology components and practices for waste reduction and paperless operation, with the determination to ensure clients experiencing new and sustainable ways of running their business and be a genuine eco-financial partner.
THIS ARTICLE WAS CREATED BY
Elegance Financial Communications Limited
Elegance Financial Communications Limited (EFC) is a one-stop professional financial printing and communication solutions provider dedicated to serving listed companies and renowned financial institutions in Hong Kong, China, Singapore, the United States and beyond.

To learn more, visit https://elegancehk.com All Courses
所有課程 Blog
文章 Global ESG News
全球ESG新聞