Hong Kong Banking Challenges:
The Role of Global Green FinTech Solutions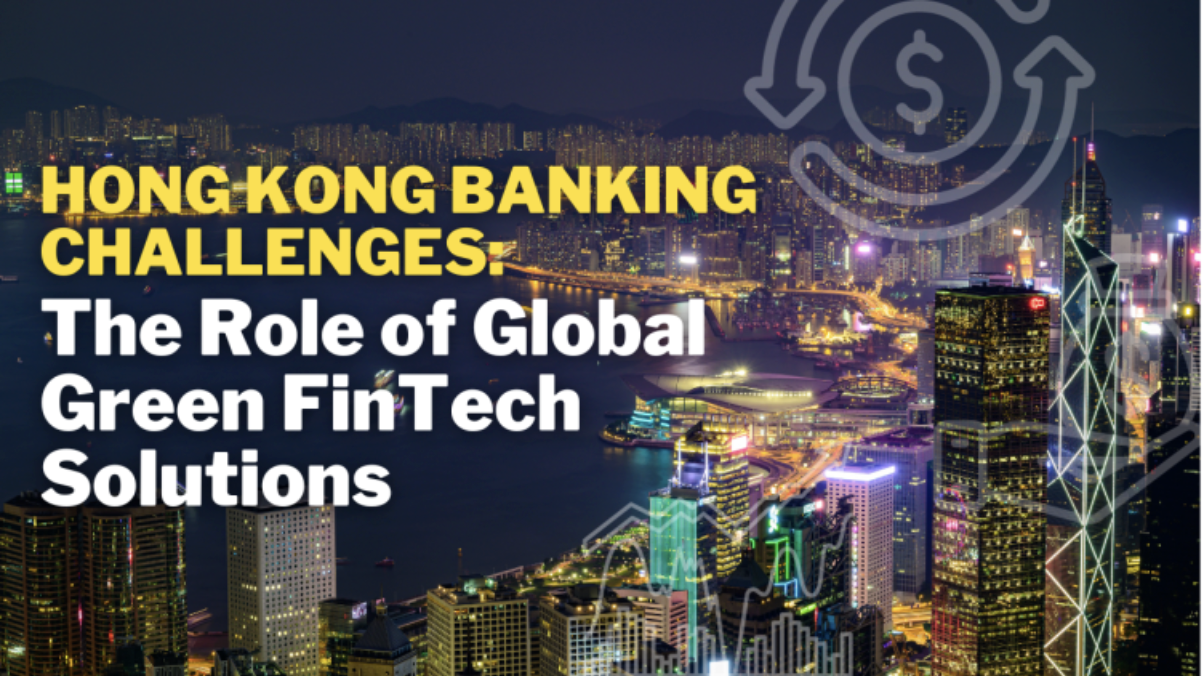 Hong Kong, a global financial hub, is at the forefront of the green finance revolution. As the world grapples with the challenges of climate change, the financial sector plays a pivotal role in driving sustainable solutions. However, the transition to green fintech is riddled with challenges. This article delves into the pressing issues faced by Hong Kong's banking sector and calls upon innovative minds to address them.
1. The Journey to Net-Zero
Worldwide economies are shifting towards a net-zero carbon footprint, placing banks in a critical position to adapt. This adaptation might involve assimilating transition strategies into governance or proffering advisory services to help clients. But this path has its hurdles:
Progress Tracking: Traditional methods to monitor net-zero progress are cumbersome and prone to errors. How can tech refine this process?
Client Data: There's a lack of data about clients' green transitions. How can advancements streamline data collection and analysis?
Scenario Crafting: Many models don't match a bank's specific needs. How can tech design tailored scenarios?
2. Managing Climate Risks
To meet regulatory standards, banks intensify their efforts to assess and mitigate climate risks. This task is intricate due to the predictive nature of these risks and the extensive timelines:
Data Uniformity: Varied climate-disclosure norms result in data inconsistencies. How can tech harmonise this information?
SME Data Gaps: SMEs often lack in-depth climate data. How can tech fill this knowledge gap?
Data Processing: Extracting relevant info from sustainability reports is tedious. How can tech optimize this process?
Risk Tools: Traditional tools aren't adequate for climate risk. How can tech devise comprehensive assessment tools?
3. Championing Green Finance


To meet investor needs and support clients' green initiatives, banks are diversifying their green financial offerings. This task requires finesse:
Regulatory Adherence: Green finance regulations are continuously changing. How can tech ensure banks remain compliant?
Greenwashing Concerns: Limited historical data makes monitoring challenging. How can tech verify the legitimacy of green projects?
SME Green Financing: Green financing is often inaccessible for SMEs. How can tech demystify and make it more available?
Tech Evaluation: Banks need to validate low-carbon tech firms. How can tech streamline this assessment?
4. Transparent Reporting
Banks need to maintain transparency and regulatory compliance through standardised disclosures. They face several challenges:
Evolving Norms: Disclosure standards change frequently. How can tech help banks stay updated?
SME Disclosures: SMEs struggle with standard disclosures. How can tech facilitate this for them?
Nature-centric Data: Certain frameworks require specific data. How can tech aid in collecting and showcasing this information?
Invitation to Innovate
The
Hong Kong Monetary Authority (HKMA)
recognises these challenges and invites companies and businesses with innovative solutions to participate in a
competition
. If you believe you have the technology or solution to address any of these problem statements, we encourage you to showcase your ideas and contribute to the green fintech revolution in Hong Kong.
THIS ARTICLE WAS CREATED BY
ESG Matters
Founded by one of the sustainability pioneers Dr Glenn Frommer, ESG Matters specialises in ESG data analytics, intelligent sensing technologies and sustainability advisory. Since 2014, ESG Matters has been a creator of digital platform solutions to meet the needs of sustainable impact investing and green financing. Working closely with listed companies, SMEs, and various growing organisations, ESG Matters aims to address the global market through providing business process outsourcing (BPO) services and solutions to achieve the relevant sustainable development goals (SDGs) and building resilience to climate change.
To learn more, visit
http://www.esgmatters.asia All Courses
所有課程 Blog
文章 Global ESG News
全球ESG新聞